Grace Hudson
1896 – 1985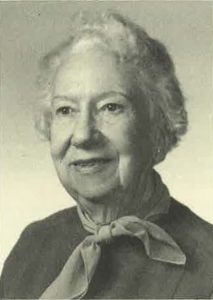 Grace Hudson was born in 1896 in Grand Meadow, MN and grew up in Bowman, ND. She graduated from the University of North Dakota in 1920. Grace had her own advertising agency at 202 Broadway. The YWCA awarded her Woman of the Year in Advertising in 1973, with the citation, "Miss Hudson was a successful businesswoman at a time when women in a man's world was less accepted than today." Grace was vice president of the North Dakota division of AAUW, president of our local branch as well as first vice president and membership chair. Grace was the recipient of an AAUW national award to write the small book, Women of North Dakota Hall of Fame in 1977.
Grace was a tireless recruiter for new members during the 1970s when the Fargo branch membership was dwindling. At the time of her death, she gave $1,000 to NDSU to begin an AAUW scholarship. Those of us who were members then always marveled at her ability to get us to work hard selling used books to make this initial donation large enough so that a scholarship could be awarded on a yearly basis. At the time this endowment was established, NDSU required that $10,000 be donated. This scholarship reached stipend level in 2002 and since then it has been awarded annually except for one year. At the present time, the award is $640.
Our branch is actively involved in choosing the recipient. Members decided that this scholarship should be awarded to a re-entry woman who graduated from high school at least 10 years ago and is able to state definite career goals. Interested students can find the application on NDSU's Scholarship Opportunities Website.
Grace also donated $20,000 to the Fargo Park District for a garden terrace in Island Park. The garden was dedicated in 1980, but by 1985 the gardens were no longer maintained. Andrea Halgrimson, the Forum librarian, stated in a 2004 column, "Hudson's life was not particularly dramatic, but it was the life of a woman who not only operated a successful business but was active in the community. It was a life defined by wanting to return something to the community in which she had prospered and about which she cared deeply."