A Beginning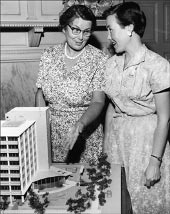 AAUW, founded in 1881 by Marion Talbot and Ellen H. Richards, began as an organization with the goal to create higher educational opportunities for women, bring women together who had earned a college degree, and find opportunities for educated women to use their training. Within ten years, AAUW merged with the Association of Collegiate Alumnae (ACA). The resulting college and university membership policies established by the ACA allowed AAUW membership to be used to encourage fair educational treatment for female students.
Expanding Horizons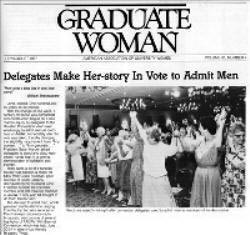 As AAUW grew, it also began to expand its reach. In 1914, members undertook the organization's first international project by establishing the Committee of Foreign Students to aid female student immigrants. Additional committees soon formed and by 1940, AAUW had committees dedicated to studying and promoting public education; assisting organization branches with community fine arts projects; and tracking the general economic status of university women.
AAUW however, continued to grow. Three hundred seventy-seven colleges and universities later, the organization also began gathering support for women who wanted to become college professors and administrators. AAUW additionally lobbied for women to be appointed to the to the U.S. Supreme Court in 1969 and, three years later, was instrumental in passing Title IX, which dealt with sex discrimination in public schools funded by federal dollars.
Community and Research

The year 1987 brought new members to the organization. Due to a change in membership requirements, men with college degrees began to join AAUW and its cause. In its continuing battle for gender equality, AAUW additionally began to work its way into male-dominated fields and subject matters such as math and science. In 1987, the Eleanor Roosevelt Fund for Women and Girls was established for research, fellowship, and community action projects concerning these areas, and by 1998, the AAUW Tech Check for Schools program was implemented to ensure schools were providing both girls and boys with adequate technology programs.
Beginning in 1991, AAUW also began studies on sexual harassment and self esteem that progressed to the first national survey on these issues called Hostile Hallways: The AAUW Survey on Sexual Harassment in America's Schools. Actions concerning sexual harassment led to programs such as Sister-to-Sister Summit, which was a female only gathering that allowed girls to discuss potentially uncomfortable topics such as sexual harassment, abuse, sex, body image, and substance abuse.

Since the 1990s, AAUW has continued to fight for social justice, education, Title IX, and gender equality. These issues have shaped this organization's progression and will encourage its purpose in the future.
If you would like more information on the AAUW's history, please visit the Online Museum on the National website.
Local History
Mrs. R.L. Weber, the founder of the Fargo-Moorhead branch, had previously been a member of AAUW branches in Ames, IA, and Ithaca, NY where her husband worked as an entomologist. In 1922, the couple moved to the Fargo-Moorhead area where she began teaching at NDSU. That same year, she decided to start the Fargo-Moorhead branch of AAUW. Seventeen women came to her initial meeting on January 27. On February 25, the Fargo-Moorhead group became the third established branch in North Dakota with 62 charter members. Eight years later, Florence Krueger (Concordia faculty member), Mrs. James Garrity, and Jenny Owens (MSUM faculty member) formed the Moorhead branch of AAUW. In 2003, the two merged and currently operate as one branch, although Moorhead members pay state dues to Minnesota and Fargo members pay state dues to North Dakota.