Dorothy Dodds
1923 – 2012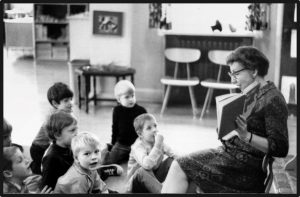 Several of our branch members had the honor of being friends and also working with Dorothy Dodds during her long tenure at MSUM. Dorothy lived in Moorhead since 1940, graduating from Moorhead High School in 1941. After graduating from the then Moorhead State Teachers College in 1945, she earned her M.S from Colorado State University in 1948.
Dorothy taught kindergarten at the Moorhead State Campus School from 1949 until the school closed in 1972. She taught in the Minnesota State University Moorhead Education Department until her retirement in 1986. She developed the first recognized early childhood education curriculum in Minnesota. Dorothy was a member of many organizations in the Fargo-Moorhead area, including AAUW. She was recognized by MSUM with the Distinguished Alumni Award for Professional Achievement in 1999 and MSUM also established the endowed Dorothy Dodds Early Education Scholarship that is awarded to students majoring in elementary education every year. Dorothy was also inducted into the Moorhead High School Hall of Honor in 2011.
In 2016 the Moorhead School District chose to name a new school after her. The 750-student K-4 Dorothy Dodds Elementary school will open in the fall of 2017.
Four students received $500 scholarships for spring semester of 2015. Thirteen students have been awarded scholarships from 2006 to 2015. Interested students can apply at MSUM's Teaching and Learning website